GAMAL MELEKA
Complex personality, determined individual capable to give expression to his deepest inspirations, Gamal Meleka was born in Cairo in Egypt, a city where he received a traditional scholastic education showing sice he was a child, a strong inclination towards the art world.

At the age of seven years, this great talent to be able to communicate through his creativity, led him to be selected to join in the "Centre for little Geniuses" directed by the most important egyptian art Masters, Hamed Nada, Ragheb Ayad, Galeb Kater, after which during an official ceremony, at the presence of egyptian Minister of culture, he was awarded with a Certificate of Merit.
When he was nineteen years old, after obtaining a Diploma in Graphic, thanks to a scholarship allocated by the egyptian Ministry of Education, he set off for Italy with a baggage full of cultural stimulus. Never without losing the perception of his origins, it is in the city of Milan that Gamal discovers a great centre of modernity, and it's here that he moves himself, where with determination, passion and enthusiasm, he begin his artistic training at the Academy of Fine Art of Brera, obtaining with excellent results a Doctorate in Painting.

In the works created during these first years in Milan, using his multi-ethnic culture, Gamal mixes an expressive permanent research with the discovery of new techniques that led him to create a particular style, inspired by the delicate subjects of Apocalypse, of Reincarnation and the Hereafter.

Eager to deepen and consolidate his artistic conscience, Gamal continues his studies, enrolling again at the Academy of Fine Art of Brera in Milan, after which he has obtained a second Doctorate in theatrical and television Scenography. Owing to this, parallelly to his artistic researches, in Italy he takes up the career of theatrical scenographer, for the "Piccolo Teatro Lirico" in Milan and for Mediaset's channels, an Italian television broadcaster, ownership of the current italian Council President Silvio Berlusconi, taking care to the most important sets for tv programs.

It is during these years of great creative ferment that in the city of Milan, take place with success his first major personal exhibition at the Art Gallery "The Collector's Club", presented by the italian art critics Mario Monteverdi and Emiddio Pietraforte. The exhibition, inaugurated by the Consul General and Ambassador of the Arab Republic of Egypt in Milan, Ismail Maklouf, gives to Gamal an important visibility in Italy and abroad; this echo arrives in the city of Rome, from where he receives an invitation from the artist Farouk Hosny, the current egyptian Minister of culture and at that moment Director of the egyptian Academy in Rome: a great personality with who began a deep ideological and cultural exchange that continues today.

The leitmotif of Gamal's activity has always been to maintain through a personal vision and expression of reality, an independence position in comparison with all the artistic movements. It is precisely this uniqueness that attracts the attention and interest of the egyptian art critic Kamal El-Mallakh a great archaeologist, discoverer of the King Khufu Solar ship, who presents the first Gamal's personal exhibition in Cairo, organized by the egyptian Minister of Culture.

As a worthy citizen, since his early years of permanence Italy, in a brief period and with a great value, he has been awarded the Italian citizenship, merits should easily be found not only in Gamal-Man, but also in Gamal-Artist.

It is in the heart of the city of Milan in Italy that Gamal inaugurates his permanent art gallery where, presenting his creations, he founds the interest of experts and collectors from all the world.

During the years, thanks to his artistic merits, Gamal's name is written on the Artist's Gold Album of various Italian cities, obtaining soon, the most prestigious and coveted awards, including those of the highest offices of the italian State. During official ceremonies, for seven times, Gamal receives an high honour award, the
9 Medal of the President of the Italian Republic, from Alessandro Pertini, Francesco Cossiga, Oscar Luigi Scalfaro and Carlo Azelio Ciampi and
3 Medals of his Holiness the Pope Paul II, Karol Wojtyla.

There are countless other awards and are remembered some of the most significant: for two consecutive years he wins the "Art Prize", instituted by the renowned art magazine sector Art, of the publishing house Giorgio Mondadori; "Europe Prize" city of Bormio (SO); commemorative premium "Italian Risorgimento" city of Groppello Cairoli (PV); national prize "Natale Malinverni" Spessa Po (PV); National Prize of the City of Santhia (VC); the "Golden Brush" of the city of Ravenna; the "Golden Palette" city of Marina di Ravenna (RA); the "Golden frog" city of Sartirana Lomellina (PV); two gold Medals of the City of Martinsicuro (TE); the silver Trophy of the City of Milan. He receives also the appointment of: Chromotherapist, "Master of the Brush" city of Nardò (LE), Member of the Museum of Permanent in Milan and the national recognition as "Milanese" honorary citizen from the municipality of Milan, with high honour "Ambrogino".

His works have been published on the covers of many important books, including a tale in prose of Dr. Tullio Moreschi and a collection of poems of the poet Donato di Poce, and also they are printed on the labels of a numbered series of bottles of wine made in Italy, created for the renowned wineries "Zaccagnini" and "Casal Thaulero, DOC wine of Abruzzo".

From north to south of Italy, in several cities and municipalities, Gamal has participated at several art events, proposing himself through his creations, egyptian ambassador for the art in Italy, often involving Ambassadors and Consuls General of the Arab Republic of Egypt in Italy, as: Ismail Maklouf, Mohamed Menesy, Mohamed Abdel Kader, Mohamed Nagib, Isam Hanafi, Safia Ibrahim Amin, Sherine Maher.

His works are in permanent collections of several cities, museums and art galleries, including: Museum of Modern Art in Cairo (Egypt), Foundation of Modern Art "El Ahram" in Cairo (Egypt); Consulate of the Arab Republic of Egypt in Italy; Center of developments of Italian-Egyptian relationship in Italy; Marrugat Gallery in Principality of Andorra; Keller Gallery in Zurich (Switzerland); Zammarchi Gallery in Milan (Italy); Borderline Gallery in Voghera (Italy); Meetingart Gallery in Vercelli (Italy), FalcoArte Gallery of Martinsicuro (Italy); The Futurist Gallery in Crotone (Italy).

He has participated as invited artist at the prestigious "Art-Exhibition" held in the cities of: Vicenza, Reggio Emilia, Monza, Padova, Bologna, Pavia, Erba, Venturina.. And also: Miart in Milan and Paviartexpo(Italy), Expo in Barcelona (Spain), Lineart in Gent (Belgium).

The artist is collaborating for the realization of important high definition art projects with prestigious well-known companies all over the world, as: "CasaViva" of the publishing house Giorgio Mondadori (magazine of interior design), Mazars (international auditing and consulting services company), Topart (publishing house Italo-American), Afi (Italian Pharmaceutical Company), Meetingart (auction house).

With an official delegation, Gamal cooperates for the creation of cultural exchanges with the Academy of Fine Art of Brera in Milan, the exhibition of contemporary art "Immagina" in Reggio Emilia, and also he has created important urban furniture project for the municipalities of Rho (MI), Segrate (MI), Montefiore dell'Aso (AP) and Vico del Gargano (FG).

The following newspapers names have given considerable space with reviews about his exhibitions and artist's interviews: Corriere della Sera, Il Giornale, Il Giorno, La Martesana, Milano2, La Prealpina, Il Resto del Carlino, La Stampa, Settegiorni, Famiglia Cristiana, l'Arca, Arte of Giorgio Mondadori, CasaViva of Giorgio Mondadori, Contemporary Art, FlashArt, Stile, Akbar Elyom, El-Ahram, El-Masaa, El-Mosauar, El-Sadak, El-Negum, Nos El-Donia, El Cairo, Weekly.

Among the distinguished historians and art critics who have reviewed Gamal, we remember: Kamal El-Mallakh (archaeologist, discoverer of the King Khufu Solar ship), Ahmad Fouad Selim, Engi Aflaton, Fatma Ali, Makram Henin, Mohamed El Naser, Mokhtar El-Attar, Nagwa El-Ashry, Carmelo Strano (Philosopher and Art Critic), Lucia Messina, Milena Milani, Mario Monteverdi, Emiddio Pietraforte, Mino Rossi, Umberto G. Tessari, Paolo Rizzi, Giorgio Seveso.
Since 2000, Gamal participates in many international contemporary art exhibition, presenting installations created with the aid of technological materials. For example: the 8th International Cairo Biennale (invited as special guest by the egyptian Ministry of Culture to represent Egypt); the 2nd International Biennale of Contemporary Painting, Tehran (Iran); the 9th International Cairo Biennale (Winner of Biennale as the best project entitled "Inside the Bar Code" presented by the philosopher and art critic Carmelo Strano); the Artist Book Biennale organized by the Library of Alexandria of Egypt; the 3rd International Biennale of Contemporary Painting, Tehran (Iran).

In 2010 a solo exhibition at the Hay Hill Gallery of London with 40 sculptures of the artist Auguste Rodin to, confirms Gamal to be the first living Egyptian artist, to expose his artworks with those of the renowned French sculptor.
On October 30, Gamal won the critics' prize Italian
as a sculptor of the year 2011.
In 2012 in realizate clusively in all oper art in the prestigious Hotel "the royal resort" to the city of Sharm el Sheikh in Egypt
2013 under the patronage of the Ministry of culture Egizziana gamal and was founder of the first Biennale internacionale painting stemporanea in the city of Sharm el Sheikh in Egypt
So varied, original, but mostly complete, the artist Gamal models with material, animates with colour and scratches with sign, creating unique works in painting, new expressions in sculpture and futuristic visions in the installations.

"Witness and storyteller through his extraordinary art, Gamal Meleka evokes us the charm of faces and places rich in history and he describes the passed time and Egypt, his place of origin, with lands parched by the force of Sun. The traces of past, the many scattered fragments that remained impressed all around, are the story referred to in these works and that today we can investigate being guided ourselves by impressions and feelings that the artist shows us through the interpretations of his memories. His paintings are so materic that impress eyes as the sculpture, the bas-relief, art in which his ancestors, the ancient Egyptian of Pharaonic dynasties, were the masters and of which all museums in the world are rich. Also thanks to his ability, often he is called to represent Egypt during important international events, as ambassador of the ancient and the new egyptian culture. Lucia Messina"

Gamal has always created his art with innovation and originality, using a personal expressive technique born after years of research, created with immediacy, gestures, perception, to become one of the first artists who has used various mixtures of resins covered with gold leaf in a complete and free artistic interpretation not decorative.
His originality is often taken as a cue and in many cases "vulgarly" copied by various egyptian and italian artists of great fame,supported by
ignorant gallerists and art critics.
On the 30th October Gamal has won the award for the best italian sculpture of 2011.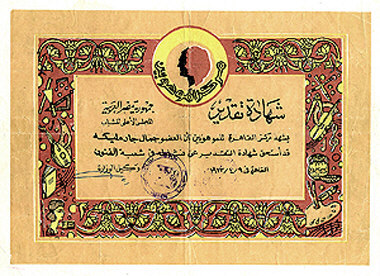 Diploma of the Small-talented Centre of th
Minister of Culture in Egypte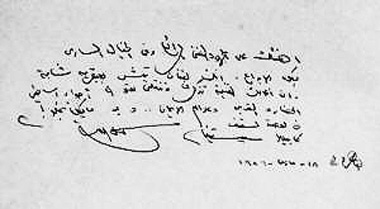 Dedication of the big art critic.archeolog ang journalist kamal El Mallakh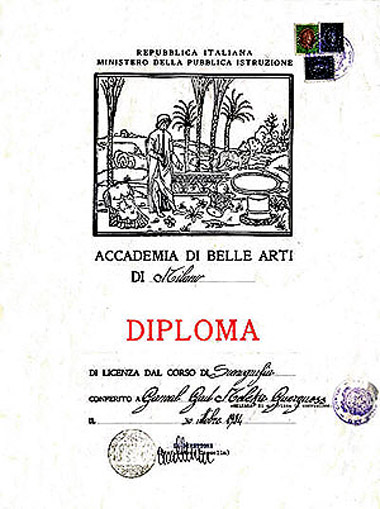 Diploma of Scenography of the Accademia di Belle Arti of Milan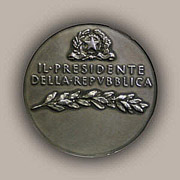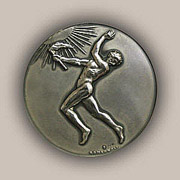 One of the medals of the President italian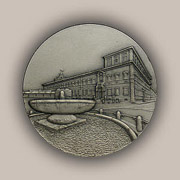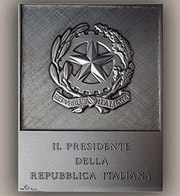 One of the medals of the President italian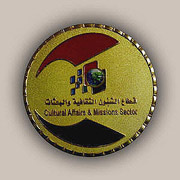 Medal od the Cultural affairs & Mission sector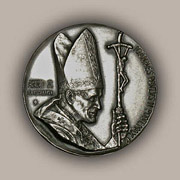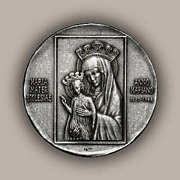 One of the Medals of His Holiness Pope Giovanni Paolo II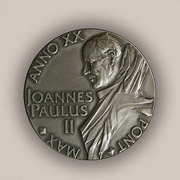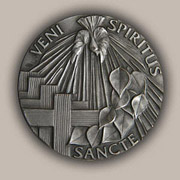 One of the Medals of His Holiness Pope Giovanni Paolo II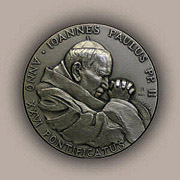 One of the Medals of His Holiness Pope Giovanni Paolo II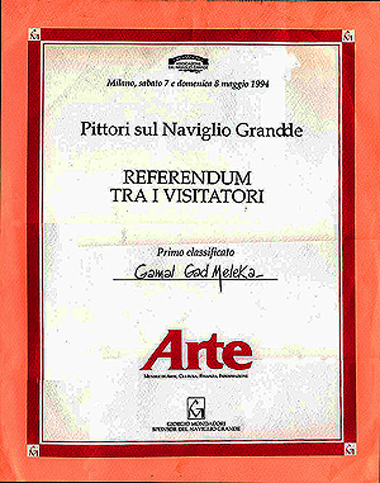 Certificate of Giorgio Mondadori's magazine ARTE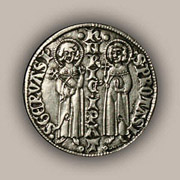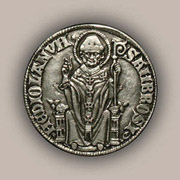 Ambrogino, Medal of hounour of the City of Milan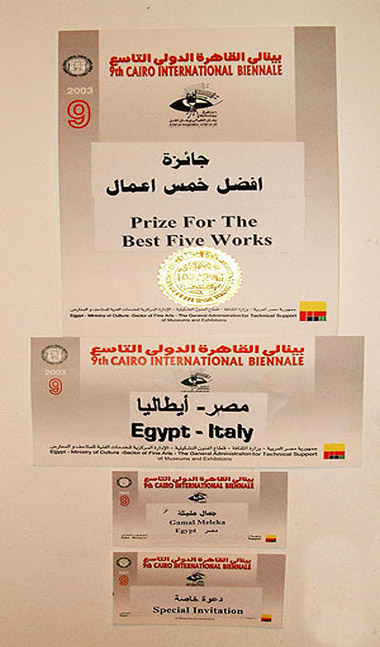 Certificate of the Cairo Biennale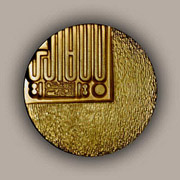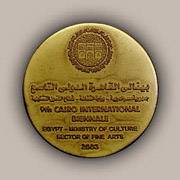 Medal of the Cairo Biennale 2003 (First award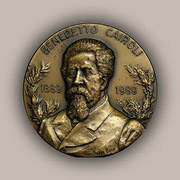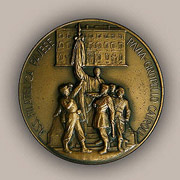 Medal of the twenty-year Groppello Cairoli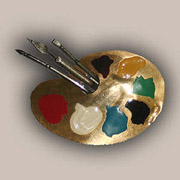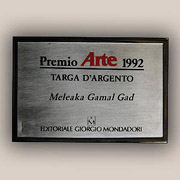 Gold palette of the city of Marina di Ravenna
of Giorgio Mondadori's magazine ARTE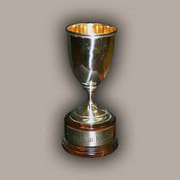 Cup of the Milan town Council